France is well covered by an extensive network of highways linking most main cities. It is more than 7000 kilometers (4000 miles) long. The network is very dense around Paris and gets somewhat less dense at the edge of the country, especially in Brittany. It is of course connected to the highway system of adjacent countries. It is complemented by a network of free dual carriageway roads.
Here is a map of the highways (operated by different companies) :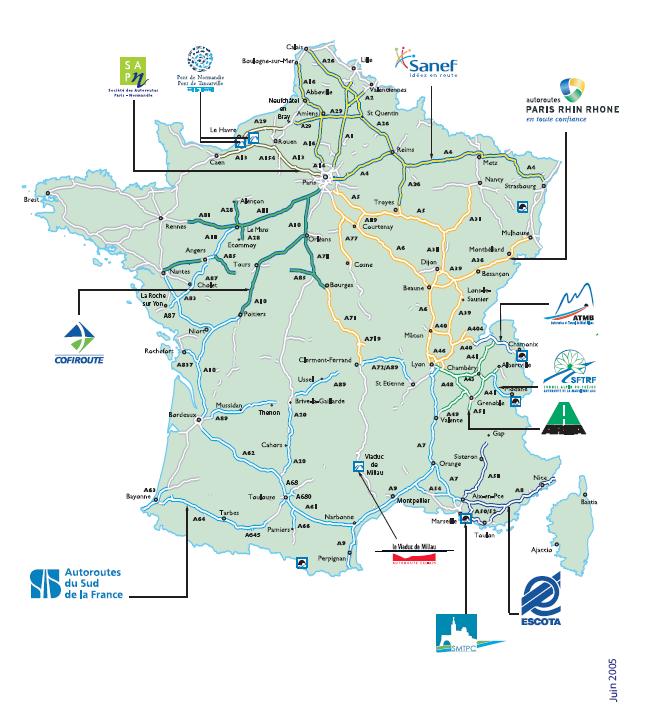 What to know:
Highway prices
The highways are usually not free to use. Every now and then you fill find toll booths (péage), where you can pay cash or by credit card. Depending on the highway, you may have to pay per section; tolls are calculated for each section of the network you're driving on and you pay regular amounts along the way; this can be the case around big cities. Or you may have to pay per network; in this case you take a ticket from the machine when you enter a particular network and then pay when leaving it. This happens most of the time.
Here some average prices for a normal car to give you an idea :
Calais to Paris : about 15 euros
Paris to Marseille : about 55 euros
Paris to Bordeaux : about 45 euros
Calais or Lille to Perpignan : about 60 euros
Those prices are for a car, independant of the number of persons inside.
It is a bit more expensive if you tow a trailer / caravan. For exemple from Paris to Marseille add about 10 euros.
Speed limits / speeding
The speed limit is 130 km/h, reduced to 110 km/h in case of wet weather (rain, snow etc).
In the last two years or so the average speed has dropped, due to more speed controls and bigger penalties. Expect traffic to flow at around 150 km/h.
If you are caught speeding, you will be either arrested and will have to pay a fine on the spot (and may have your licence confiscated if you oversped by 50 km/h or more), check here for more, or you will not be arrested and a fine will be sent to you later on. In that case check here.
Rest areas
Every 10 to 15 kilometers you will find rest areas (Aires d'autoroute). Those are designed for people to have a break and make the roads safer. You are advised to make a 15 minutes break every two hours or so.
There are two kinds of rest areas : simple rest area, with usually clean free toilets, picnic tables, and sometimes a point of interest (eg viewpoint, historical place). Or Gas station rest area, where you will find a gas station with free clean toilets, a shop (food, beverages, car stuff, books, music, etc), possibly one or more restaurants, picnic areas and also possibly a point of interest. Some are also well equipped to deal with babies. Road signs along the way will indicate the next area, and what is to be found there, and the price of gas if there is a gas station on that rest area.
In case of breakdown / accident
You should do your best to stop on the right hard shoulder of the highway (as close as possible to the security barrier). If in a tunnel with no hard shoulder there will be every kilometer or so an opening on the right of the road designed for that, try to get there.
Don't forget to put the hazard lights on, get everybody out of the car and beyond the security barrier, then phone 112 for help or walk either way to get to an emergency phone. The calls are free and go straight through to the police who will send an approved mechanic who will try to fix the problem or arrange to tow you to a garage. You will be expected to give your identity, your position, the type, colour and size of your vehicle, as well as the registration number. The price : for a vehicle less than 1.8 tonnes, roadside repairs of up to 30 minutes cost 68.60 euro between 8.00am and 6.00pm, Monday to Friday (forfait de base), and 102.90 euro between 6.00pm and 8.00am, and on Saturday, Sunday and Public Holidays (forfait majoré). The cost of parts and extra time are additional.
Suggested routes / itineraries in France
The motorway from Clermont-Ferrand to Montpellier is toll free, runs through spectacular scenery and is a good alternative to the busy A6/A7 Rhone Valley route south.
Avoid Paris if you're going to the Alps, Provence or Cote d'Azur from Calais by taking the A26/A5/A31 via Reims to Dijon
The new A39 links Dijon to Bourg-en-Bresse
If you're heading from Calais/Boulogne towards the south-west, Pyrenees or Languedoc take the A16 to junction 10 then the RN184 Cergy Pontoise, St Germain, RN13/RN186 (Versailles) A13 (Rouen/Le Havre) A12 then either towards Chartres the RN10 or for other directions the A86 direction Creteil leaving towards Orleans N186/A10.
The A84 motorway link between Caen and Rennes is now complete, meaning continuous motorway or dual carriageway from Calais to the Spanish border south of Biarritz.
1- Driving on the right.
2- Speed limits.
3- Driving licence.
4- Filling up the tank.
5- Highways.
6- Drinking and driving.
7- Driving times and distances.
8- Busy time on the roads.
Enjoy your driving!